About Boston Beer Brews

Boston Beer Company packaged two brews into beer cans: Boston Light Ale and Boston Stock Ale. Boston Light Ale came in a variety of beer can styles and label designs while Stock Ale came only in a quart cone top beer can. Light Ale is available as a quart cone top (3 variations), a 12-oz. j-spout cone top, and 3 distinct Crowntainer designs. All are considered at least scarce in top grade, and some are considered extremely rare. There is some conjecture whether a crowntainer version with a dark brown background was a legitimate variation, a test can, or a printing error.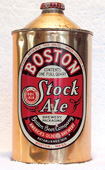 About the Boston Beer Company

Long before James Koch and Samuel Adams Boston Lager, there was another Boston brewery know as Boston Beer Company. And Yuengling Brewing Company had to wait decades to stake its now-famous claim of "America's oldest brewery" because of it. Founded in 1828, the original Boston Beer Company owned the title until it ceased operations in 1956. The company was not a prolific advertiser, but some advertising other than cans is available. Oddly, it is almost exclusively post-Prohibition. Breweriana types include bottles, signs, thermometers, a tray, assorted signs, clocks and more. The brewery also produced the brands Dresden Beer, and Reliance Ale, though they were never canned.